Journalist Bhupendra Chaubey is a sorry tale misogynist but he showed what a product of fine art he turned into by getting an aphrodisiac, kinda mental orgasm by his over emphasis on the word sex. A three letter word he was so obsessed equating it to Sunny Leone in his ill researched, botched up and shoddy interview. You know the story right, it fell flat on his face.
How this shoddy piece of journalism emboldened by Chaubey whose sole aim was to put down Sunny Leone for 19 minutes boomeranged on his face! I am no fan of Sunny Leone. I don't google her like millions nor I go gung ho when her movies are released. But, have to give her credit for her poise, dignity for standing tall in the interview and she came with flying colors. A blockbuster worth more than 100 crores clubs.
Sunny Leone is not shy in calling herself an entertainer and rightly so, when her movies are lapped by thousands or her pictures googled by millions. She has a past like most of us do but what touches us is how she owns it. Plenty of guts, she has, for there are very few who would not discard it. Respect to her when quizzed on porn movies she acted in the past, "I was never molested or abused." The former 'Porn Queen' said it loud and clear that she never claimed of being haunted by her past. She emerged as the real winner in this interview designed to strip her dignity as a star and more so, as a human being. There are so many things we can learn from the lady.
Was Chaubey getting a mental ejaculation with his over emphasis on words like porn, sex or corrupting Indian minds and accusing Sunny of being a threat to women. Read it, you'll get it: The danger of having her as 'brand ambassador of new India'. Oh! seriously Mr Chaubey! Who said she is the brand ambassador? A homework badly done with ingrained prejudice against someone who is working hard and makes me wonder what was the agenda of the journalist. It's a blot to journalism and this guy doesn't honor the noble professional at all. Shameful or disgusting would be a misnomer to describe this guy. It's such a perverse attitude. Does the guy marvel at porn in private? Or, he has become some moral authority! I wouldn't mind Arnab Goswami at all when faced with Chaubey. How I wish of having a vote button.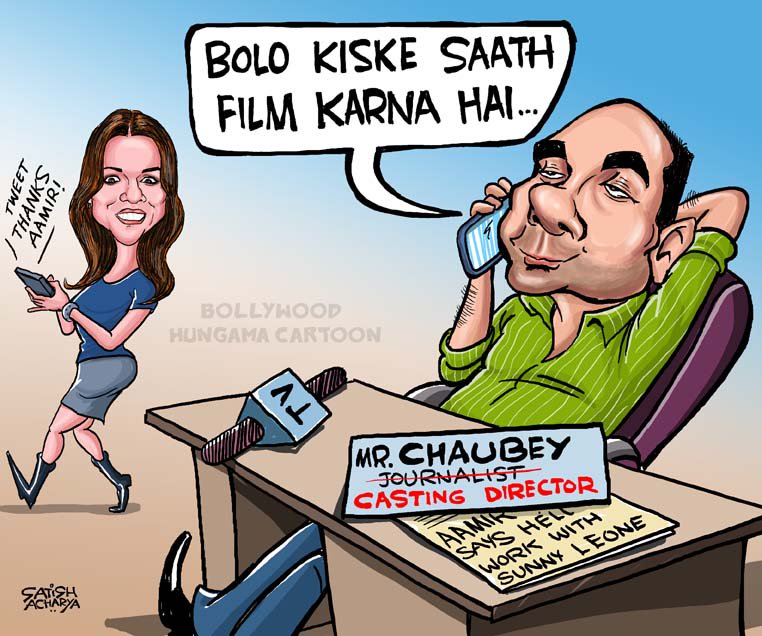 The guy, throughout the interview, felt airy smugness.  Poor fella! He was beaten at his own game by Sunny Leone who stood her ground with self respect. Brave would be an understatement. She was being herself and didn't freak out by trading insults. That's the mark of a respectful person. A strong willed woman who slapped the guy her own way, 'I don't want your husbands and I have no reason to hate you. I don't get frazzled by negativity." It's quite something, Mr Chaubey or you are too plain stupid to realize that you lost your face.
It doesn't calm the enthusiasm of Chaubey hitting below the belt and showing his knowledge about lowering of fine arts and repeating the word 'regret' for being a porn star. He doesn't stop here and oft repeats the word 'item girl'. How he shows his ever expanding vocabulary. Mind you! He turns into an expert, quantifying the direct relationship between Sunny Leone and porn viewing in India. The porn industry will be very happy in having him as a consultant on how to make it sell. And, he brings Aamir Khan into picture to make it the Baap of all interviews. He was so deft at the subject and boasting on doing the homework that he was clueless on Sunny Leone career span in the industry.
What's wrong in being an entertainer in the industry? I ask myself. One may or may not endorse someone's choice which is perfectly fine but such kind of ingrained sexism and acting like some messiah of public morality reeks of ludicrousness and fucked up morality. The guy completely lost it and kept on harping unabashedly where the sole aim of the interview was to put the actor down. Hats off Sunny Leone for conducting herself with so much dignity and for sure, she has earned herself more admirers by standing her ground. She nailed it when she asked, "Do you want me to walk out? That's power and respect. Insults doesn't need to be traded with insult or shouting. Sunny Leone taught us an important lesson.
V