It's been a year where film-makers and actors never fell short of experimenting and exploring new subjects to woo and win the hearts of the audience. It's my belief in the power of cinema to evoke emotions, entertain and push for stirring thoughts. A year can tell so many things about movies and it's our love for art that bind hearts together in celebrating the nation. The year 2015 would be termed the more, the merrier in terms of aesthetic excellence, pure entertainment and experimenting, of course. It shows that if the content is good, the audience is ever ready to give thumbs up and movies like Piku, Bajirao Mastani and Tamasha are fitting examples. Here. presenting to you my personal selection of the 10 best films of 2015.
Bajirao Mastani
Sanjay Leela Bhansali's magnum opus 'Bajirao Mastani' which is the love story of Maharashtrian warrior, Peshwa Bajirao, remains for me the best film of the year in terms of grand opulence, aesthetic grandeur and the director's vision that makes it an enthralling cinematic journey. Such movies based on historical characters must be encouraged and shows that SLB is back in style and his unique knack of telling a story that celebrates life, remains.
2. Bajrangi Bhaijaan
It's Salman Khan. Kabir Khan's Bajrangi Bhaijaan is not only strong technically but a story made with a soul, beautifully depicting the relationship between an upright man, a devotee of Lord Hanuman and a Pakistani girl lost in India. Kabir Khan presented Salman Khan in a new avatar and the latter stole our hearts in his new version of Prem, way above the cliche Dhan Payo. The film sends a strong message of love and peace between India and Pakistan. If reel was not enough, Bajrangi Bhaijaan became a tale of real life imitating cinema. Remember, Geeta, the girl who wandered in Pakistan and Bhaijaan played a role in uniting her with India. It touched our hearts.
3. Tanu Weds Manu Returns
If the prequel was a laugh riot, tongue-in-cheek and rebellious, Tanu Weds Manu Returns takes the fun to an octane level with double Kangana Ranaut who was the show stealer, playing both roles as distinct as she could. She is the charmer, who carries the movies on her shoulders from start to finish. She won hearts in both versions, the rebel and the character playing the Haryanvi accent to perfection. Yes! We love the dialogue, Itni happening life, Jhand kardi iss aadmi ne. The Queen emerged as the male in TWM Returns.
4. Piku
The Bachchan-Deepika-Irfan combo took Piku to escalated heights and swoon us off our feet. A movie on loose motion, a father's take on women freedom and a daughter making the life of her cab wala hell, Piku just won our hearts and how!! Bachchan redefined himself as an actor making us go gaga, Deepika showed her mettle in a mature act and of course, Irfan one liners, Yeh Baap Beti koi Kolkotta jane wala nahin, aise hi tp kar rahe hai. Killer dialogue! Killer movie! A strong script cum characters can do wonder at the box office and the audience gave thumbs up to the flick.
5. Dum Laga ke Haisha
A short budget movie based on a simple life in a village where Ayushman Khuranna first hates his wife and then both find common ground with each other. A simple story told with a big heart and soul stirring emotions. Yes! We drool over the tribute paid to Hindi songs of 90s, Kumar Sanu and Alka Yagnik. Who says that movies need to be flashy and extravagant. Beauty lies in simplicity.
6. Detective Byomkesh Bakshi
Dibakar Banerjee's Detective Byomkesh Bakshi in 1940's Calcutta sets a benchmark to sleuth movies and the 'film noir' serves fodder on experimental cinema, flawless direction and engaging narration. The movie comes as a breath of fresh air and the director couple stylish cinema, soulful background music and the picturization of Calcutta, for instance the tram ride, with competence. A small master stroke.
7. Masaan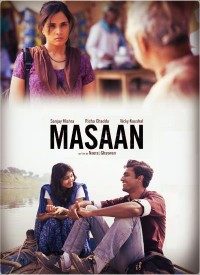 Masand captures Benaras in all its forms and expression starring Richa Chaddha who delivers a subtle yet effortless performance. Neeraj Ghaywan touches the issue of morality, individual freedom and the place of women in society in a thought-provoking manner. It's about hope and redemption, combining poetry and performances of all the actors, whether Chaddha, Sanjay Mishra and Vicky Kaushal. Chaddha holds her forte and delivers a subtle yet flawless performance that will be remembered for a long. A small master piece. After all, cinema has no barrier and why should a chota sheher be left behind?
8. Tamasha
This Imtiaz Ali-Ranbir Kapoor-Deepika Padukone starrer on what we make of life is about the fears we face as individuals and it unveils the lid on the identity crisis , dreams and aspirations which often put us at the cross road of life. Tamasha is not just a movie but a sad but true reflection on the life of lies we lead. The Ranbir-Deepika sizzling chemistry, the former's power act and Imtiaz intelligent direction makes Tamasha a compelling movie that everyone should watch. One of the most riveting movies of the year and time to wake up the 'coward' in all of us.
9. Bombay Velvet
Anurag Kashyap may have faced flak with Bombay Velvet but according to me, it will emerge as a cult film in years to come. A tribute to the old Bombay that one has left behind and Kashyap pours his soul in his version of the city. Ranbir as Johnny delivers an award winning act, Anushka as Rosy adds to this terrific journey and Karan Johar makes his debut as the villain, though he lacks the grave menacing look. Bombay Velvet is a not just a movie but a trip to the Grand old Bombay. The movie has a soul and is a living experience.
10. Badlapur
In Sriram Raghavan's Badlapur, youth heart throb Varun Dhawan is given an image makeover, showing streaks of grey to set a wrong right.  Badlapur is an edgy and compelling thriller where Varun shows that he has far more range as an actor than he is credited with and shows his maturity as an actor in this dark film. The film boasts of fine performances by Nawazzudin, Huma Qureshi and Radhika Apte.
Other movies such as Shamitabh, NH10, Baby, Dil Dhadakne Doo and Drishyam deserve mention for adding colors to Hindi cinema. While I have not yet watched Margarita with a Straw, Pyar ka Punchnama 2, Dilwale, Angry Indian Godess, Tevar, Hunter and Bahubali, hailed by trade pundits and critics.Like they say the more the merrier and hope that film makers as well as actors push the envelope further in 2016. Hindi cinema is having the best of times where commercial and meaningful movies exist side by side.