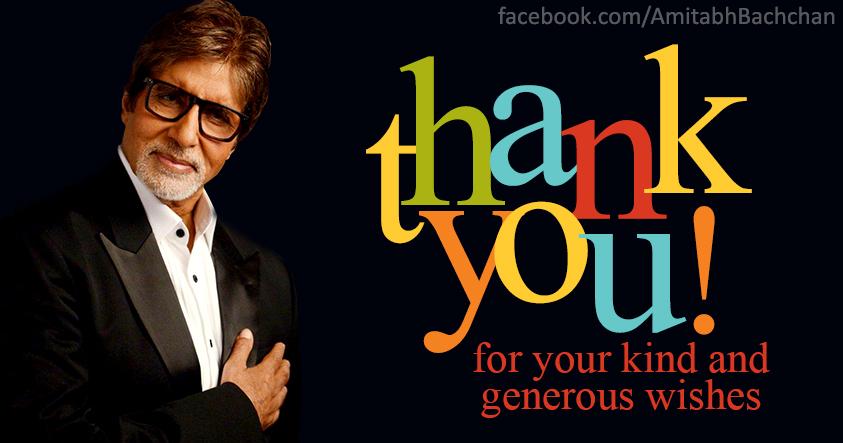 He's the Big B, the Shahenshah who rules our hearts for more than four decades. The mention of his name, Amitabh Bachchan, gives me goosebumps and seeing him face-to-face makes one shiver like branches on a tree. The original Don turns 73 today and has time and again proved that there is no one like him. He has been my hero, my God. I grew up on his films and remember the first movie that I watched was 'Mard' where Dad took me along as a child. He danced, romanced, made me laugh and fought the dozen villains. What entry he made in movies and exploding like thunder! What more can one ask as a fan!
As a teenager, I remember rushing to buy magazines like Filmfare, Movie and Stardust as well as music albums and posters with my pocket money. The heart was beating and anxious I was that the magazines and posters would soon run out of stock and when I lay hands on the magazines and posters, it became my treasure trove. Yes! Amit Sir became my God and it was my hero worship moment, carefully preserving magazines, posters, music albums and keeping newspaper cuttings of his articles. What time it was, growing on movies of Amitabh Bachchan because no one does it like him.
I vividly remember asking the uncle selling audio cassettes at that time, to compile a list of my favorite Amitabh songs and dialogues. One of the first cassettes I bought was Amitabh Dhamaka-songs and dialogues and I tried to google it but couldn't locate it on You Tube or anywhere else. I would put the cassette in the player, listen and learn the dialogues carefully. Standing in front of the mirror, I would mouth my favorite dialogues, Rishtey mein hum tumhare baap lagte hai naam hai Shahenshah, Vijay Dinanath Chauhan from Agneepath and Aaj Khush to bohot ho gaye from Deewar. I would look at myself in front of the mirror and analyze my expression. I wanted to be Amitabh Bachchan, tucked his postcard inside my tee, telling the hair dresser to do my hair same same. It's another thing that when I combed my hair, I never got it right. Once, I got a copy of Stardust with a long 8 pages story with nice pictures but Mom hide the magazine since I was not studying. It's another story that I never found the magazine.
Growing up on movies of Mr Bachchan, he won my heart with movies like Shahenshah and Agneepath till Black and now, Piku. He was my favorite then and now. I would go crazy watching him on screen and never missed an AB film then and now where I can never skip what he does. What awesome childhood, teenage and adult memories. Lucky I was when he came for a show and saw him crying on stage when he said that he just came to know that good friend, Smita Patil died and in another instance, there was the shooting of Hum. When he came on stage, all children broke the barricade to have a dekkho and shake his hands. The kids wanted to touch their favorite star and hero. He stood like a pillar and when we approached the stage, the cops showed us the lathi when he stopped them in their tracks. Mr Bachchan perched his body on the end of the platform and bends down to shake the hands of children. This is power to me. I was on cloud 9 on that day and proudly told everyone that I shook the hands of Amitabh Bachchan. Later, I met him during a cinema festival and run around to shake his hand and gave him a birthday card. I sported a French cut beard in an attempt to look like him and he gently stroke my beard in an acknowledgement. It was one of the happiest moment in life. Years later, I was unlucky when he came shooting for Viruddh at a bungalow in Pune and I skipped class where we stood by the gate in the scorching sun till from morning and the evening. There were hope to meet Amit Sir but, we were not allowed inside. The only solace I had is that both of us are in the same city and he is breathing the same air that I am.
The question many would ask, is why I love Amitabh Bachchan so much? Everyone knows that he is the country's biggest superstar, a legend and institution but for me he remains an inspiration on what he achieved in life but also bounced back in style after the failure of ABCL, made his comeback after his political stint and after the Coolie incident. I remember how in 2005 when he fell ill and stayed in hospital for two months, life stopped for his fans. As fans, we stopped breathing and life came to a stand still. It was two months in hospital for Bachchan Sir where we would regularly check his health update. I experienced the media and fans frenzy, alike, who prayed for Amit Sir. We were worried since he stayed at the hospital for 2 months and scared that something serious might happen. At that time, ToI started a campaign where fans were invited to wish him speedy recovery by sms. I did send him a message.
I remember when Amitabh Bachchan was discharged from the hospital, Abhishek wore a superman tee shirt for his Dad. He waved to his fans and remember went to Mumbai for a conference in January 2006 and it was the first Sunday when ToI published a long interview of Amitabh Bachchan-I still have the preserved the copy. What he said was a moment of joy on how he has kept all the messages that was poured and he framed it. What more can a happy fan can ask when his favorite superstar read his message and framed the words.
Any argument when we say that Amitabh Bachchan is not only the biggest superstar but can bring the pulse of a nation to a halt. Yes! It's crazy when I tell that I spent my day doing nothing today but listening on web radio of special Big B show and watched Amar Akbar Anthony on DVD.
Happy wala budday, Mr Amitabh Bachchan, you remain an inspiration always and many more birthdays to come. I hope that one day I can pen a book on my favorite superstar.
With loads of love, from a crazy die-hard Bachchan fan
V