BOOK REVIEW: CHOICES
By
Ruchira Khanna
Released by: Createspace
Rating: Three and a half
You can contact the author on http://abracabadra.blogspot.com and order by contacting the author on ruchira00@gmail.com
Click on the link to order: http://www.amazon.com/gp/product/1492758361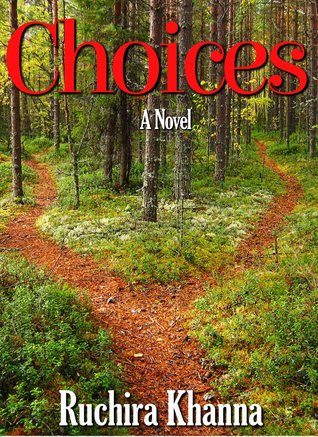 VERDICT
A feel-good and sensitive narration expressing the essence of love, family values, dreams, good heart and hopes for  the ordinary mortal in any society, be it western or Asian.  Ruchira Khanna's CHOICES is a heart-warming story that anyone will identify with because it's a story that finds an echo in every heart that beats.
Should we pursue our dreams or settle for less in seeking happiness? Credit to Ruchira Khanna for not making value-judgement but keeps the question open in a non-biased way. In this process of materialistic pursuits, we have forgotten about our real identity, obsessed with making money at the cost of human happiness, and a heart capable of loving. In short, we have forgotten how to enjoy every single moment of life. This is what Ruchira addresses in this exquisite novel with aplomb.
BLURB:
Leonardo is a young man who is standing on a crossroad of life, facing choices. One road leads to a high stress career that brings in big bucks; the other is a chance to make a real difference in lives of others. He has a few questions, questions that all of us have faced when facing choices that can change our lives. Does fate make a man, or do his desires?
Credit: (https://www.goodreads.com/book/show/18600422-choices)
My Blurb:
The Sylva family is an immigrant from Portugal to US in search of a good life. Albert and Amelia face a lot of hardships but they give lots of love and care to their son, Leonardo, who is shy teenager. They help him to face his inner battles, shyness and always encourage him to see his inner self and never flinch to care about friends and to fall in love. It is an example of a family bonding with love. As fate would have it, an incident shakes the family. Will Amelie and her son Leonardo be able to conquer the battles of life? Author Ruchira Khanna has the answers for you.
Narration:
Ruchira Khanna took great care to avoid the pitfalls of boredom and preachy language that can halt the flow of a novel highlighting positivity, human happiness and heavy duty morality. Ruchira should be credited for the treatment that doesn't make it sound like a Robin Sharma book. Certainly, it's not and the writer carves her own niche and in her own style that makes it uniquely beautiful. 'CHOICES' depicts the human bondage, relationship between a father and son, mother and son with a skillful narration. The writer brings a poignant conclusion which is relatable and mesmerizes the heart. Ruchira Khanna makes a good point that money shouldn't be a deciding factor to lead a successful life. She expresses the perspective in a subdued manner.
Words touching the soul:
"Things happen for a reason…You realize you have friends…I  have always been on the run and have never helped anyone….her mind is busy thinking how remarkable fate is and whatever happens in everybody's life has a reason for it"
Minuses:
–During the start, too many characters are introduced at the same time that initially, it leads to confusion and the readers might take time to get a hang of things.
-At times, I feel that the situation hops too swiftly from one situation to another and the case in point, is where Leonard hops from the job of warden to his dream job. One feels it happens a bit too abrupt.
FINAL WORDS:
All said and done, Ruchira Khanna paints a vivid picture through the well-sketched characters and rich texture that makes it a powerful story and sensitive narration. . Very well told, the outpouring of human emotions makes us feel that it's our story that grasps our attention from start-to-finish. The author has done a terrific job in weaving a story that captures the soul and imagination. 'CHOICES' is your story, my story and your struggles in life that defines you. The author taps the emotional moments when Albert dies and showcases the women condition through Amelie in a telling way. The pain and longing for one's love is brilliantly sketched. I recommend Ruchira Khanna's 'CHOICES' for making a strong pitch on the essence of family for successful relationship. A winner all the way, 'CHOICES', is a must-have in your collection of good books.
I wish to thank the author who mailed me the book copy and grateful that she considered me to review her book.