Book Review: Butterfly Season
Genre: Rom-Com/ chick lit
Author: Natasha Ahmed
Publisher: Indireads
Rating: Three and a half stars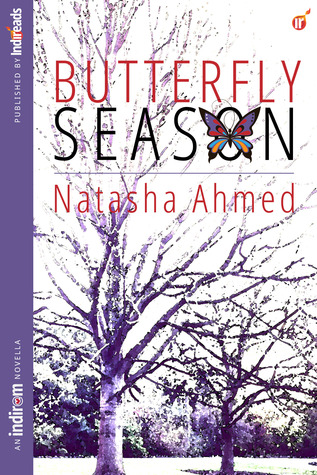 Blurb:
On her first holiday in six years, Rumi is expecting to relax and unwind. But when she is set up by her long-time friend, she doesn't shy away from the possibilities. Ahad, a charming, independent, self-made man, captures her imagination, drawing her away from her disapproving sister, Juveria. Faced with sizzling chemistry and a meeting of the minds, Ahad and Rumi find themselves deep in a relationship that moves forward with growing intensity. (credit source: https://www.goodreads.com/book/show/19475532-butterfly-season)
Finds more about the author on: https://www.facebook.com/tasha.author,  http://dearrumi.com/
Natasha Ahmed:
She works in a small office at home, not far from Sea View, Karachi. From a tiny window, she can see the Arabian Sea sparkling in the distance, and small fishing boats trawl up and down the water throughout the day. When she's not writing books, she's dreaming of setting sail towards the horizon and never looking back. Great adventure, she believes, starts with great daring. Butterfly Season is her first novella, though not, she hopes, her last.
At One Glance:
On the onset, let me admit that it took me over two to three months to finish Natasha Ahmed's Butterfly Season not because the book drags but, for some reasons, unknown to me. First things first, Butterfly Season  starts brilliantly over a heated argument where the main protagonist, Rumi, staunchly defends her country Pakistan, during a reunion with friends who have gelled in the British cosmopolitan culture.
However, I feel that the novella slows in pace and drags in bits and pieces in what I'd call a difficult start to find its mojo and steer the plane for take off. Once it sets rolling, there is no looking back and Natasha Ahmed's writing stood out with its sensitive portrayal of the main character, Rumi, her quest for freedom, sensitive portrayal of relationship and a feel of both Karachi and London. At one shot: Butterfly Season is like the refreshing leaves that falls during spring and reaches the climax with a bang. There is love, conflict, freedom, cultural clash and, of course, surprising unraveling towards the climax.
On Valentine  Day, Indireads were giving free copies of Butterfly Season and the self-confessed fan of rom-com that I am, hopped on their Facebook page and stake claim to my copy.
Narration:
As I mentioned earlier, the book starts off at a slow pace  and ranges between tedious to dull at times and I feel it got to do with the simple reason that the characters had to find their place in the narrative. However, the feeble moments appears in sporadic moments and disappears as the story progresses. Once the dull moment is lost, the author grasp the narrative in a competent manner and the well-defined characters comes out strongly, throwing surprise after surprise. The narrative is compelling and Natasha Ahmed has handled the conflicts between Rumi and Ahad in a deft and expert manner.
Moreover, the area of conflict verges between Rumi and her younger sister, Mahira, whose tendentious approach, remains one of the highlights of Butterfly season coupled with the emotional pang faced by Rumi and Ahad in the relationship. We also get a feel of London and  Karachi, as two diametrically opposed cities on account of cultures and upbringing, as the characters who makes London their home reflects on past life in Pakistan. Butterfly Season is all about the revolt and the quest of  a young woman for freedom which she gets by falling in love. It is the world of Rumi who doesn't flinch once and twiddle at the face of cultural conflict. There is no sign of frazzle in Rumi's character who comes across as a very strong women in the book who stands her ground and is depicted as someone who is very culturally, politically and intellectually aware of her cultural surrounding and limits.
Drawbacks:
1. The dichotomy of cultural differences between London and Pakistan in the lives of the main protagonists should have been given more weight and I feel that there is somewhat a lack of description about Rumi's life in Karachi. The Pakistan city appears as a kinda of blink-and-miss and would love to see more of this part of Asia in the book.
2.  There  is one character that finds absolutely no place in the narrative and Ahad's ex-girl friend popping out of the blue on the busy streets in London appears largely unwanted and unbelievable piece. It is dicey to  the otherwise gripping narrative.
3.  The book takes its own time to gather pace, despite the terrific and original opening. It progresses slowly in the start, and, thankfully, it gains momentum from start to finish.
Final words:
Natasha Ahmed makes a brilliant effort in bringing alive characters that one can easily relate to, despite their complexities, and  she adds her own personal style, dash of humor, oodles of surprises spanning throughout. The climax is simply brilliant and Natasha Ahmed has deliciously concocted a  menu of surprises that makes it a compelling end. Make sure you grab your copy and enjoy the journey of Rumi from London to Karachi. Just don't let the initial hiccups spoil your fun for it touches a bold subject.
V